New Tweed Airport Park and Ride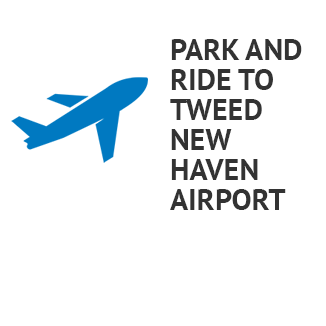 Please visit ParkHVN.com to make parking and shuttle reservations for your upcoming trip at Tweed New Haven Airport.
How it works:
For $10 a day, Avelo/Tweed New Haven customers can park their car at the 270 State Street Garage while traveling.
Customer will drive to the 270 State Street Garage, take a parking ticket, and take the shuttle waiting in front of the Main Garage entrance/exit area on State Street.
Upon return, take the shuttle waiting at Tweed New Haven Airport to the parking garage at 270 State Street. The shuttle operator will issue you a barcoded validation sticker.
After being dropped off at the entrance/exit to the Main Garage, customer can pay on foot on the first level of the garage, or in the exit lane.

When exiting the 270 State Street Parking Garage:

First Scan the ticket Barcode
Then Scan the barcode validation Sticker

*Note – Exit Stations accepts only credit cards (Mastercard, Visa, Discover and American Express)
Parking and shuttle pickup will be at 270 State Street from November 17th,2022 – December 1st, 2022 and December 15th, 2022 – January 5th, 2022.
Parking and shuttle operations at Union Station end November 16th, 2022.
CLICK HERE TO MAKE A PARK & RIDE RESERVATION
---
**Shuttle reservations now offered at State Street Garage – 270 State Street – during holiday peak travel. Visit
ParkHVN.com
to make a reservation.